The New S1E(P) IP Phone is a basic phone with the advanced design. Packed with all the necessary VoIP features at an affordable price, it is the best choice for customers who only need essential VoIP access.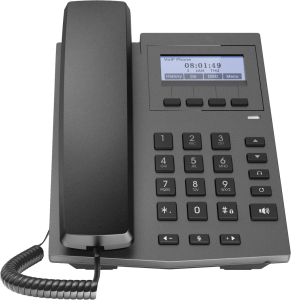 Highlights:
• Simple and fashionable appearance of the product
• Economic and Environmental Friendly design with Elegant housing.
• Easy installation and configuration
• Compatible with major platforms: 3CX, Asterisk, Broadsoft, Elastix, etc.
Phone Features
Phonebook (500 entries)
Remote Phonebook (XML/LDAP)
Call log (600 entries, in/out/missed)
Black/White List Call Filtering
Voice Message Waiting Indication (VMWI)
Programmable Soft keys
Network Time Synchronization
Action URL / Active URI
uaCSTA
Call Fetures
•Call out / answer / reject
•Mute / Unmute (microphone)
•Call Hold / Resume
•Call Waiting
•Intercom
•Caller ID Display
•Speed Dial
•Anonymous Call (Hide Caller ID)
•Call Forwarding (Always/Busy/No Answer)
•Call Transfer(Attended/Unattended)
•Call Parking / Pick-up (depending on server)
•Redial/Auto-Redial
•Do-Not-Disturb (per line / per phone)
•Auto-Answering (per line)
•Voice Message (on server)
•Local 3-way Conference
•Hot Line
•Hot-Desking
Generic
• 2 SIP Line
• POE Enabled(S1EP Only)
• Handset(HS) / Hands-free(HF) / Headphone(HP) mode
• Desktop stand
• Optional External Power Supply
Audio
•Narrowband CODEC: G.711a/u, G.722, G.726-32K, G.729A,Opus, iLBC
•Full-duplex Acoustic Echo Canceller (AEC) – Hands-free Mode,96ms tail-length
•Voice Activity Detection (VAD) / Comfort Noise Generation(CNG) / Background Noise Estimation (BNE) / Noise Reduction(NR)
•Packet Loss Concealment (PLC)
•Dynamic Adaptive Jitter Buffer up to 300ms
•DTMF: In-band, Out-of-Band – DTMF-Relay(RFC2833) /SIP INFO
Network Features
•10/100Mbps Ethernet, dual bridged port for PC bypass
•IP Configuration: Static / DHCP / PPPoE
•IPv4, IPv6, IPv4&IPv6
•Network Access Control: 802.1x
•VPN: L2TP (Basic Unencrypted) / OpenVPN
•VLAN
•QoS
Maintenance & Management
•Auto-Provisioning via FTP/TFTP/HTTP/HTTPS/DHCP OPT66/SIP PNP/TR069
•Web Management Portal
•Web-based Packet-dump
•Configuration Export / Import
•Phonebook Import/Export
•Firmware Upgrade
•Syslog
Physical Fetures
•LCD: 128×48 dot-matrix, no backlight
•Keypad: 24 keys, including
•4 Soft-keys
•4 Function keys (Up, Down, Headset, Redial)
•12 Standard Phone Digits keys
•2 Volume Control keys, Up/Down
•1 Hands-free key
•1 Mute key
•Standard RJ9 Handset Wire x1
•1.5M CAT5 Ethernet Cable x1
•RJ9 Phone port x2: Handset x1, Headphone x1
•RJ45 Port x2: Network x1, PC x1 (Bridged to Network)
•DC Power Input: 5V / 0.6A
•Power Consumption: Idle 0.89W~1.2W Peak 1.81W~2.5W
•Working Temperature: 0~40℃
•Working Humidity: 10~95%
•Color: Black
•Device Dimensions: 153×165.8×163.1mm
•Gift Box Dimensions: 250x205x66mm
•Outer CTN Dimensions: 420x340x265mm (10 PCS)